Softball
Sunday, 16 September 2007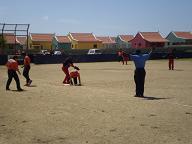 Tremendo play off di campeonato organiza y dirigi pa Comision Pro Softball Organiza a continua diabierna ultimo na veld di Kudawecha. Den e promer partido Diario Dragon Hitters mester a enfrenta Accountants Kantoor Arrindell pa mira si nan por empata e serie pa asina forza un wega desisivo. Harold De Luvio a cuminza pa Dragon Hitters pero no por a wanta e bateria fuerte di accountant Kantoor Arrindell y ta bay cas cu e derota
Read more...
Sunday, 16 September 2007

Play off a cuminza y equiponan tanto den A-Clas y

tambe Dobble-A a drenta e rond di semi final pa hunga un best out of three pa mira kende lo sigi pa final cual lo bay ta un best out of five.

Den e promer partido e muchanan di Tico Loopstok Universal Trophy a inicia riba bon pia y a mustra cu no ta pornada nan a clasifica number uno y a aplasta e muchanan di Juan Arcaya y Ramiro Lopez esta Interprint ganando e promer partido den e seria di best out of three cu score di 12-4.

Read more...

Tuesday, 11 September 2007

Diadomingo ultimo weganan di playoff a inicia na tereno di Calabas unda den e promer partido den categoria di A-Clas Accountants Kantoor Arrindell a bin decidido pa regla cos contra e muchanan di Dragon Hitters.

Read more...

Tuesday, 11 September 2007

Diabierna ultimo a continua e fabuloso campeonato organiza y dirigi pa Comision Pro Softball Organiza riba veld di Winston. Den liga orkidia e liga di flornan bunita e equipo di Minguel Tromp y Lucio Geerman esta Aruba Bank Lady Tigers a bin cu idea serio y a vapulia e equipo di Carmelita y marina Haynes E-Stars cu score di 10-1.

Read more...

Monday, 10 September 2007
Den weekend cu a pasa e torneo di Softball gubernamental 2007 a continua ariba tereno di Kudawecha. Aki e departamento di Gobierno a wordo reparti den grupo di 4 y tambe tin 4 pool. Click read more pa e resultadonan.
Read more...
<< Start
< Prev
71
72
73
74
Next >
End >>
Results 658 - 665 of 665