Golf
Friday, 02 May 2014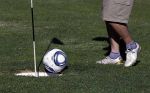 Diasabra awor 3 di Mei lo bai tin un evento yama Foot Golf cual lo bai ta tumando lugar na Aruba Golf Club cu a la vez ta organisando e evento aki.
Read more...
Wednesday, 02 April 2014

Diadomingo, dia 30 di maart a tuma lugar e prome torneo anual di golf di AFMAruba. Nos por mira atras na un torneo grandioso cu un ambiente tremendo cu a dura te den oranan di atardi.

Read more...

Thursday, 05 December 2013
November 2013 "Rotary Club of Aruba" tabata tin nan di 14 Rotary Charity Golf Tournament na Divi Aruba cual tabata un biaha mas sumamente exitoso.
Read more...

Tuesday, 23 October 2012


Luna di october cual ta luna di concientisacion di cancer pa pecho. Divi Links y Divi Pro Shop tur aņa ta bin ta haciendo un campaņa pa recauda fondo pa cancer na pecho, na unda tur e beneficio ta bai pa Mary Joan Foundation. E aņa aki tambe a bende e famoso bala di golf cu sinta ros y riba diasabra 20 di October ultimo a organisa e tremendo Pink Golf Tournament.

Read more...

Monday, 23 January 2012


Awe nos a haya un relato di un mucha homber cu jama Maurice Eduard de l'Isle cu ta praktica e deporte di golf. Kizas algo no mucho conoci na Aruba, mirando cu no tin un federacion of club di golf na Aruba, pero e mucha homber aki ta un talento masha grandi mes den e deporte aki. Den corto tempo su logronan den torneonan local y internacional tabata grandisimo.

Read more...
<< Start
< Prev
1
2
Next >
End >>
Results 1 - 9 of 12