| | | | |
| --- | --- | --- | --- |
| Exitoso torneo di golf organisa pa Kiwanis Club of Aruba | | | |
Wednesday, 03 March 2010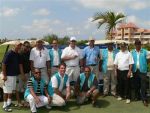 STA CRUZ --- En conecshon cu su di 45 anja di existencia dia 20 di februari 2010, Kiwanis Club of Aruba a organisa un Charity Golf Tournament ariba diadomingo 28 di februari 2010 riba e cancha di The Links na Divi. Tur fondo cu a wordo recauda durante e torneo aki a bai directamente na Fundacion Sonrisa.
Un grupo basta grandi di hungadornan di golf a registra na e evento aki incluyendo e talento joven di Aruba den golf Keith Tromp di 10 anja. Después di casi 5 ora riba e cancha, e sigiente resultadonan a bira conoci:
Longest drive:               Omar de Souza
Closest to the pin:          Herbie Tromp
Segundo Lugar:             Maurice de L'Isle y Axl Ismail
Prome Lugar:                Rey y Orlando Rasmijn

Después di entrega di premio na e ganadornan, Presidente di Kiwanis Club of Aruba, Sr. Jan Noordzij, a hasi entrega di e check na balor di AWG 10.000,00 na e presidente di Fundacion Sonrisa, Sr. Tromp.
Kiwanis Club of Aruba kier a gradici e sigiente personanan y instancianan cu a hasi e torneo di golf aki un éxito rotundo:
Tur e golfistanan cu a participa, Aruba Bank, Banco di Caribe, Caribbean Mercantile Bank N.V., RBTT, PriceWaterhouseCoopers, Deloitte, KPMG, Fatum, Heineken, Cajojo Services N.V., RE Yrausquin, Otis Carel Elevators, Advance Human Resource Services, 4Sure Entertainment, Tec Inc, Aruba Trading Company, Colombian Emeralds, Sams by Manolo y Discovery Travel.
Un danki masha grande tambe ta bai na e profeshonalnan di The Links, Srs. Willem van Elderen y James Kiley y e staff di The Links y Divi Resort pa nan tremendo cooperashon y dedicashon na realisashon di e torneo aki.
Kiwanis ta un organisashon global di voluntario dedica na mejora calidad di bida di muchanan y comunidad. Pa mas informashon di e actividadnan di Kiwanis y of Kiwanis Club of Aruba, por bishita e sigiente websitenan: www.kiwanis.org of www.kiwanisaruba.org. Tambe por sigi e actividadnan di Kiwanis Club of Aruba via su pagina riba Facebook.