Tennis
Friday, 22 January 2010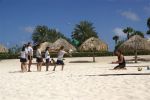 STA CRUZ --- Getting in shape after the holidays is a breeze when you play Beach Tennis. This fun sport is hot on the island, getting hotter every moment. The two new courts at MooMba Beach have become a dire necessity as the two existing courts have proven to be too few for the growing demand. Next week the first players will inaugurate the two spectacular courts.
 

Read more...
Monday, 18 January 2010

STA CRUZ --- Aruba has a first: a Beach Tennis Club with four excellent courts, soft sand, boarding and lights. Capitalizing on the enormous enthusiasm of local beach tennis players, who flock to MooMba Beach for their weekly competitions, the pick-up nights, the ladies' mornings and the exceptionally successful ranking tournaments,

Read more...

Tuesday, 22 December 2009

STA CRUZ --- The words `best-ever' and `hopi leuk mes'  were heard during the final Beach Ranking Tournament of the year, which took place last Sunday at Eagle Beach. A fantastic tent, bleachers, lots to eat and drink and a record number of 92 participating teams who played their hearts out made this day unforgettable. Even the shower was a hit!


Read more...

Tuesday, 08 December 2009

STA CRUZ --- Durante fin di siman dec 6 2009, Eagle International Tennis Club a celebra nan fiesta di Sinterklaas annual, cu un torneo cu yiu tambe mini Tennis. For tempran tabata reina un bon ambiente.

Read more...

Wednesday, 18 November 2009

PALM BEACH--Continuing in the same outrageous, happy and wild mode as last Sunday evening after the finals of the Aruba International Beach Tennis Tournament, finalists and winners were all smiles at the Stellaris Casino, sponsor of the prize money

Read more...
<< Start
< Prev
1
2
3
4
5
6
7
8
9
10
Next >
End >>
Results 55 - 63 of 131