| | | | |
| --- | --- | --- | --- |
| Tom Doucette y Rob Guenter lo ta na Aruba | | | |
Tuesday, 21 April 2015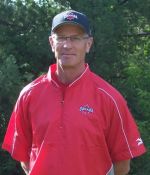 Despues di trabaonan duro di directiva di ASB y e tremendo networking riba plataforma mundial a logra trese Head Coach di National Team di Canada Sr Tom Duecette y pitching instructor ambos Hall of Famer Aruba pa un Clinics.

Tom y Rob lo permanese pa un siman na Aruba unda e lo duna 5 dia di clinics na nos coachnan local.

Tom tin diferente medaya como logro trahando como coach, entre otro medaya di Plata cu Junior Men's National Team na 2009 perdiendo 2-1 den extra inning cu Australia. Tom tabata tin exito tanto cu seleccion masculino y seleccion femenino y ta un di esnan mas popular na Canada pa su trabaonan y logronan. Tom tambe tin un Master den learning Facilitator y un Master den Evaluator, ademas Tom tabata instrumental den desaroya un Coaching Program pa Canada yama NCCP esta e National Coaching Certification Program Level 1, 2 y 3 y ta esun cu ta duna e lesnan aki pa certifica Canadesnan pa nan por coach un team, adicional Tom a wordo reconosi pa su contribucion na e deporte di softball y a ricibi e famoso "Queen Elizabeth II Diamond Jubilee" y tambe a keda induci den Hall of Fame di Canadian Softball na 2011. Hunto cu Tom lo ta na Aruba tambe Rob Guenter. Rob Guenter tin un trayectoria largo como pitcher di seleccion. Rob tabata un di e pitchernan mas exitoso cu Canada tabata tin. Su promer medaya di oro el a gana cu Canada den aña 70 y pa 15 aña largo despues di su promer medaya Rob a comanda riba moticulo cu masha hopi exito, medaya y titulo, entre otro 3 medaya di Oro, 3 medaya di silver y un medaya di Brons. Pa nombra algun ORO den dos Juegos Pan Americano consecutivo na 1979 y 1983 y Silver den Mundial di ISF na 1980. Tambe Rob tin bao di su faha 2 titulo di MVP na 1982 y 1983. Como atleta Rob a wordo induci den BC Sports Hall of Fame na 1995, Saskatoon Sports Hall of fame na 1997 y Softball Canada Hall of Fame na 1998.

Na tur nos coachesnan y Atletanan miembro di Aruba Softball Bond esaki ta bo oportunidad pa ricibi mas conosemento. ASB trahando incansabel pa sigui desaroya y subi nos nivel tanto como atleta y como coach. Clinics lo tuma lugar Dialuna 27 di April pa Diabierna 1 di Mei. Hunto nos lo logra.