Bowling
Sunday, 20 March 2011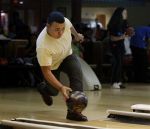 DIABIERNA ATARDI PA 4.OO'OR DI ATARDI A TUMA LUGAR E TORNEO DI BOWLING JUVENIL DI HIMNO Y BANDERA NA EAGLE BOWLING PALACE Y CU BASTANTE PUBLICO DEN EAGLE BOWLING PALACE.

Read more...
Sunday, 20 March 2011

EAGLE --- DIASABRA 19 MAART LO SALI PA GUATEMALA SELECCION DI SUB 20 Y SELECCION DI ADULTO PA REPRESENTA ARUBA NA CONCECABOL, WEGANAN CENTRO AMERICANO Y DEL CARIBE DI BOWLING.



Read more...

Tuesday, 15 March 2011

EAGLE --- Diabierna awor 18 maart 2011 "EAGLET BOWLING CLUB ARUBA" lo organisa un Torneo di Himno y Bandera pa 4.00'or di atardi na Eagle Bowling Palace en conneccion cu celebracion dia di Himno y Bandera.

Read more...

Tuesday, 30 November 2010

EAGLE --- Den siman cu ta tras di lomba a tuma luga e final di Ladies and Mens Leagues 2010 den Eagle Bowling Palace. Click read more pa e resultadonan!!!
Read more...

Thursday, 23 September 2010

EAGLE --- Diasabra 25 september 2010 na Eagle Bowling Palace lo tin un Torneo di Grabbelton pa nos muchanan. Regla pa e torneo aki lo ta : CATEGORIA ďAĒ Edad 6 pa 10 anja: Pa  cada 3 SPARE o cada STRIKE (X) of un score mas cu 120 tin chance pa bai grabbelton;

Read more...
<< Start
< Prev
1
2
3
4
5
6
7
8
9
10
Next >
End >>
Results 55 - 63 of 105